"KCA members met and spoke to more than 75 legislators in their offices, over lunch, and at the KCA Legislative Reception. We were able to discuss issues important to Kansas chiropractors and our patients."
~Dr. Kristina Gibbons, Wellsville
2020 Stand TALL with KCA
February 6, 2020
Topeka, KS
Stand TALL with KCA is the association's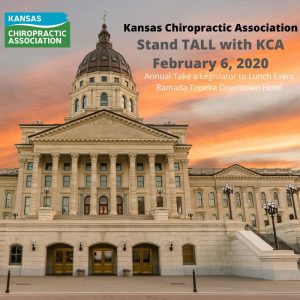 annual legislative event. DCs from across the state join together in Topeka to tell the story of Chiropractic and build relationships with lawmakers.
These relationships encourage lawmakers to become chiropractic advocates, and help defend and preserve the chiropractic scope of practice. The event features legislative visits, lunches with lawmakers and an evening legislative reception.
The Kansas Chiropractic Association members provide leadership in health care by demanding the highest educational standards, and adherence to the highest moral and ethical standards, thus providing the patients we serve with the best approach to health and wellness available.
As an association, we strive for equality in health care for our profession, thereby earning the respect of the public and fellow health care providers.
2020 Schedule of Events:
9 – 11 am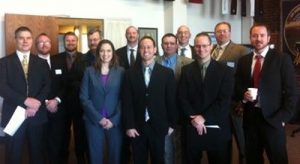 • Kansas State Capitol Dining Room
• Welcome and overview of day's activities
• Briefing on issues to be discussed with lawmakers
• Overview and practice on how to talk with lawmakers
• Questions and answers 
11 am
• Meet with lawmakers and discuss the issues
• Invite them to join you for lunch a nearby restaurants
12 – 2 pm
Lunches with individual lawmakers
2 – 5 pm
Meet with lawmakers
Tours of Kansas Statehouse
5:30 – 7:30 pm
Drinks and appetizers reception with Lawmakers
Ramada Topeka Downtown Hotel – 420 SE 6th Avenue
Event is in the Mansion Room